THE CHURCH OF ST MARY is open daily from 7:30 am
Please feel free to go in and sit or walk around and take advantage of the peace and quiet of the building.
Prayer cards are available to read, and also leaflets with a brief history of the church for you to take away.
Hand gel sanitiser is available. Please use this, wear a mask and maintain social distancing in the interest of your own and others' health.
Please visit the Bridges Group website for more information and links to online services.
The churchyard grass is cut by a rota of volunteers throughout the mowing season – still looking for a few more volunteers for 2022 – click here for the list.
Ever wondered what's going on in the belfry when you hear the delightful peal of the St Mary bells? Well, wonder no longer – here's a YouTube clip revealing all.
For an aerial view of the church taken in May 2021, click the thumbnail to see full size image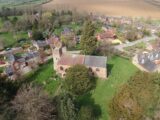 Parochial Church Council News
Priors Hardwick is in the Bridges Group, a group of six parishes in east Warwickshire, together with Lower Shuckburgh, Napton, Priors Marston, Stockton and Wormleighton.
Six Parishes Website:
For further information visit The Bridges Group website
Services
Please see the calendar below
Contact Details
Margaret on 262233, Christopher on 261941 or Candy (Treasurer) on 264077     (exchange 01327)